Date published:14 Dec 2021
A new book, edited by the Royal Agricultural University's Professor Louise Manning, has highlighted how malicious contamination of food at vulnerable points in agri-food supply chains is a global issue and a major threat to consumer health.
Developing smart agri-food supply chains: Using technology to improve safety and quality features contributions from more than 20 internationally established researchers in the field of food safety and quality, and is an authoritative reference on current methods and protocols used to assess product integrity, advances in the use of technology to ensure safety and quality throughout each stage of the agri-food supply chain, and developments in tracking and traceability measures.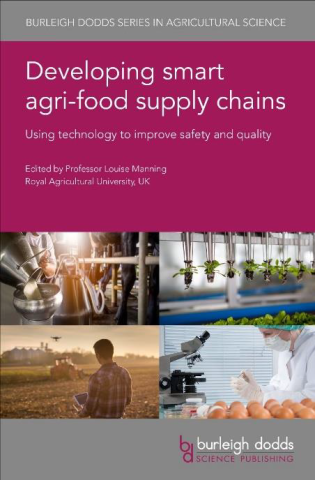 Professor Manning, Professor of Agri-Food and Supply Chain Security at the RAU, said: "There is not a more opportune time to publish a book that explores how we can optimise food production through improving our agri-food supply chains.
"Technology is emerging in food supply chains from field to fork that will change how we can build a picture of food production - what is happening, when problems arise, and how they can be addressed to minimise the impact on people, planet, and profit."
The safety of agri-food supply chains remains under constant threat from risks such as food adulteration, malicious contamination, microbiological and chemical hazards, as well as the presence of foreign bodies in food products.
The World Health Organisation (WHO) recently reported that around 600 million people - almost 1 in 10 - suffer illnesses related to consuming contaminated food. Of this number, 400,000 die as a result of food-borne diseases.
In modern times food contamination has become an aspect of biowarfare or bioterrorism, but the practice dates back to at least the sixth century BC when one army poisoned the drinking water of their enemies with ergot - a toxic fungus.
Equally alarming is agroterrorism - a subset of bioterrorism which specifically targets agriculture as a system. Agroterrorism is a particular worry because of the fundamental role agriculture plays in securing the health, productivity, and profitability of a nation.
The book also features a chapter on the history of bioterrorism and biowarfare, the consequent development of agroterrorism, as well as examples of agroterrorism from the 20th and 21st centuries, including one individual's threat to spread foot-and-mouth disease across the UK and US.
Professor Manning added: "Smarter systems and protocols must be developed and implemented to protect the integrity, authenticity, and safety of our agri-food supply chains. This book provides a background to the innovations that are creating a step-change in global agriculture and food production.
"It is a great addition to the existing material on preventing and managing future potential threats to the safety of our global food production systems and provides some excellent case studies on how traceability, transparency, and consistent quality of food across the world can be assured."
Click here to purchase a copy of Developing smart agri-food supply chains: Using technology to improve safety and quality, from Burleigh Dodds Science Publishing Limited in print and digital formats costing £150.