Date published:07 Oct 2021
Congratulations to RELM student Alice Crump who has won this year's Pilkington Farms Partnership Prize which has paid for her final year's tuition fees.
Alice, who has just gone into the third year of her BSc (Hons) Rural Land Management course, won the prize for being the top performing student in her second year.
She is the first winner of the prize, introduced last year by the Pilkington Farms Partnership and the RAU, which is designed to reward academic performance and to celebrate excellence and innovation in real estate and land management.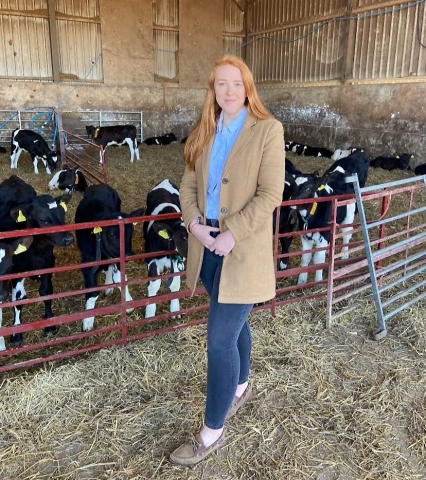 Alice said: "After a hard year of studies during the pandemic, I was delighted to find out I had won the extremely generous Pilkington Farms Partnership Prize, which has sponsored my third year tuition fees.
"I went to visit Richard Pilkington and his team in Hertfordshire where he showed me around his very impressive 7,000 acre estate along with numerous properties and commercial units. It was very refreshing to meet an alumni that was so passionate about The Royal Agricultural University and the next generation of young rural surveyors."
Richard Pilkington said: "It was a real pleasure to meet Alice when she visited. She is most deserving of our prize and we are very proud to have given it to her.
"I look forward to seeing her in our industry and reading about her thoughts, initiatives, and achievements for many years to come but, most importantly, I hope she takes the time to enjoy her final year, as well as working hard!"
The prize, which is available annually, is given to the top-performing undergraduate student in their second year of study on a Real Estate or Land Management undergraduate degree at the RAU.
It is awarded based on sustained, excellent, academic performance throughout the student's first two years of study and is given in 50/50 increments at the beginning of semesters one and two of the student's final year.
William Leschallas, Head of School of Real Estate and Land Management, said: "This is truly a fantastic prize and we are most grateful to Pilkington Farms for their generosity.
"I am so pleased for Alice - she is a deserving winner in the first year that it has been presented. Alice is a very able student and contributes a great deal in lectures and seminars. She worked extremely hard and, in the pursuit of excellence, she has won the prize. Many congratulations to her."
William added: "The funding value of the Pilkington Farms Partnership Prize is the final year's tuition fee - currently £9,250 - offered as a fee-waiver. It really is an amazing prize but you've got to be in it to win it and prepared to put in the hard work!"