RAU students in the stocks at May Day fleece fayre
The Royal Agricultural University's Student Union (RAUSU) rolled up their sleeves and had great fun hosting the stocks at the Cirencester Fleece Fayre on the May Bank Holiday (1 May 2017).
RAU students happily obliged as members of the public hurled wet sponges at them, and also took families on a Hare spotting tractor tour of the Abbey Grounds.
Cirencester Town Council, in partnership with Abbey 900, hosted Cirencester's first modern day Fleece Fayre, celebrating the history of the wool trade in the newly regenerated Market Place.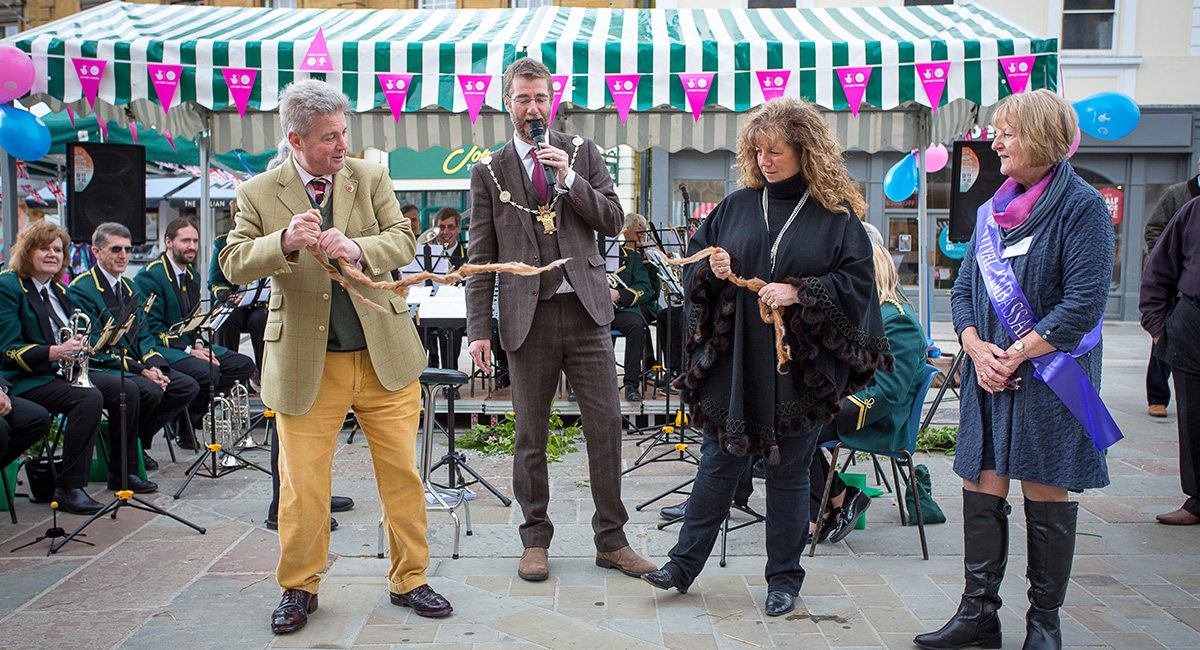 A full day's programme of entertainment, dancing, and activities was kick started with the official opening by the Earl and Countess Bathurst. The fun packed day included a vast array of community dance groups, including Cirencester Creative Dance Academy, Stroud & Gloucestershire Morris Dancers, and May Pole dancing, a wool themed fleece market, a felt making workshop hosted by New Brewery Arts, garland making by the Churn, and other community groups having fun with interactive sheep themed games and creative crafts. Other highlights included Punch and Judy, juggling workshops, a colouring competition, and medieval storytelling in the parish church.
Mark Harris, Mayor of Cirencester, said: "We will now do this every year. It was a huge community event with thousands of people from all sections of our community and visitors from afar coming to the new Market Place to celebrate a traditional country holiday."
The Cirencester Fleece Fayre will become an annual event in Cirencester. Next year's date will be Monday 7 May 2018. If you would like to get involved please contact Suzie Lew, Market and Events Officer at Cirencester Town Council.