Students talk about joining through Clearing
Students talk about joining through Clearing
Read about the experiences of three of our students who joined through Clearing.
Pip Higgins – BSc Bloodstock and Performance Horse Management
I came to the RAU to study Bloodstock and Performance Horse Management in September 2021.
I only decided in the July, before I started University in September, that I no longer wanted to study my chosen course at any of the universities I had applied to. My first choice university was Plymouth to study radiography – very different to horses!
I was aware of the RAU as my brother came here - he studied Rural Land Management from the year 2016 to 2019 - and I loved it when I came to visit him so decided I would apply to the RAU through Clearing as it was too late to alter my UCAS application at that stage.
My parents and I came for a private campus tour very soon after I had made my mind up that this was where I wanted to study. Obviously, I had already been to the RAU before but seeing it again just made me absolutely certain that I wanted to study on this beautiful campus! 
I haven't regretted my decision! I really love my course and the whole of uni life here at the RAU. Coming to study here was the best decision I made! 
My advice to anyone out there thinking of applying to the RAU through Clearing would be that it isn't a bad thing at all. It may not have been your route of choice but it can offer different opportunities that you may not have considered before! Go for it!
Ellie Pincombe - BSc Rural Land Management
Pre-covid, I had offers from both Cardiff and Loughborough for Law, Politics and International Relations with the hopes to become a sports lawyer.
However, the pandemic meant that I never actually got to sit my A-Levels, leaving my teachers to decide my grades. As this method didn't favour me, I sat in my bed on results morning crying and wondering what I was supposed to do.
I had heard about the RAU and had always planned to have a look at some point but had never got around to it. So, after speaking to my boss's daughters, who were already students here, I gave the Clearing team a ring and decided that it was the place for me.
I never came for a visit or a campus tour before I started, or even knew where Cirencester was on the map, but as I was getting ready to arrive I started to feel a real sense of excitement.
Once on campus I was surprised at the homely feel and the sense of calm I had. During my Freshers Week there wasn't a day where I thought that I'd made the wrong decision. Though hard, my course is really rewarding with such a varied module list that it never gets boring and the lecturers are so helpful and accommodating.
Socially, there is nowhere else like Ciren. Though my first year was flooded with lockdowns and Covid rules, my year made the best of a bad situation and had more fun than I could have imagined which has only been enhanced since we've emerged from Covid restrictions this past year.
Coming to the RAU was the best decision I've ever made. If you're thinking about applying through clearing, my advice would be "Don't be afraid to take the leap, it's so worth in the end".
Amelia Sumner - BSc (Hons) International Business Management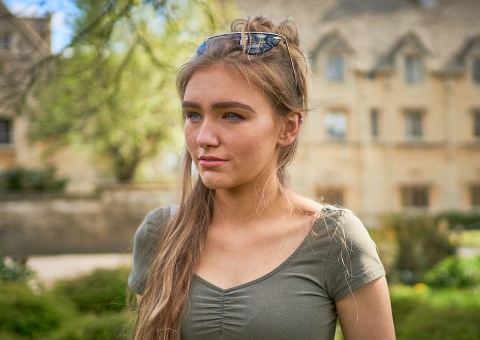 I took a year out - and was contemplating what to do with my life - when a girl I was working with saw an advert for studying at the RAU and suggested I apply.
I emailed the RAU during the clearing process and had a response back the same day! I applied immediately and was accepted.
I was nervous about starting university, being two years older than my year, but I came for a tour the following week and really loved the buildings and the atmosphere.
I am very dyslexic and had been worried that I would not be suited to higher education but the lady who showed me around was really helpful and reassuring and during the tour all my nerves and worries went away and I was just left with a huge sense of excitement.
I can honestly say that I LOVED my course! It was amazing and unlike my friends at other universities I learnt practical skills that I am now applying in the workplace. I can write a compelling report, understand terminology and can do a bit of work in all departments. I would highly recommend it for everyone.
I thoroughly enjoyed my time at the RAU and made a lot of long-term friendships with my peers. I am now really looking forward to getting into my masters in September. I would advise anyone thinking of applying to the RAU through clearing not to hesitate. Go for it and enjoy it!