We are the founding partner of the International Agriculture University (IAU) in Tashkent, Uzbekistan.
Opened in 2022 IAU is one of 20 new autonomous universities being developed in Uzbekistan to ensure Uzbek students have access to international-quality education that will enable them to contribute to the economic, social and cultural development of Uzbekistan. The selection of agriculture for one of the first of these new universities reflects the significance of the sector, both within Uzbekistan and globally.
Initially the programmes will be three and four year undergraduate Agriculture degrees, with plans for expanding the undergraduate offer to include agricultural technology and agri-food business programmes in future years.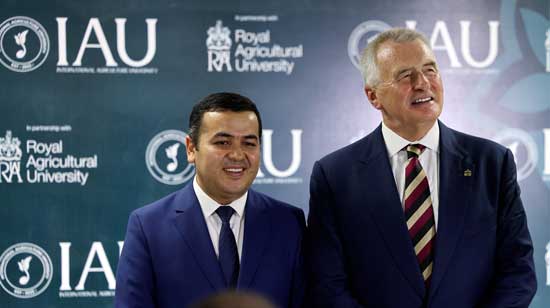 The grand opening ceremony was attended by Uzbekistan's Deputy Prime Minister Jamshid Khodjaev, Minister of Agriculture Aziz Voitov, as well as RAU Vice-Chancellor Professor Peter McCaffery and Dr Munira Aminova, Acting Rector of IAU.