A key aim of our knowledge exchange strategy is to accelerate the establishment and growth of rural enterprises and Gloucestershire based businesses through Farm491, the Student Enterprise Programme and the Cirencester Growth Hub. Our enterprise and entrepreneurship programmes across the institution, enabling wider and deeper partnerships with our communities to deliver national (Industrial Strategy) and place based (gfirst LEP) strategies. The draft Local Industrial Strategy for Gloucestershire was published late 2019 and the  growth and regeneration needs listed in the strategy include attracting and retaining young talent; supporting the growth of cyber-tech, high-tech and agri-tech innovation; utilising agri-tech to create a healthy circular economy in food and farming, and creating an advanced agri-tech hive, a virtual innovation cluster based on agri-tech and cyber security.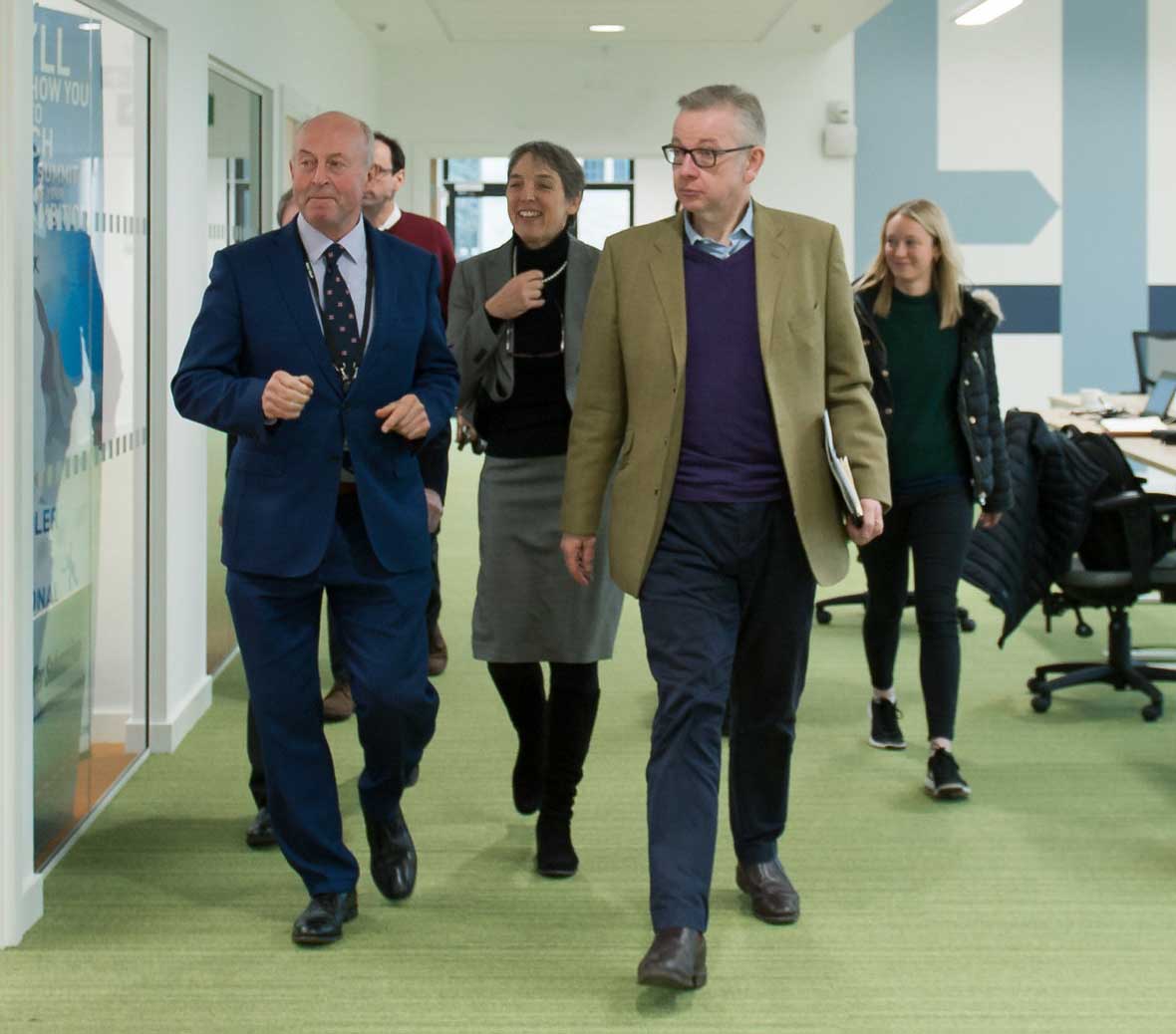 MP Michel Gove on a visit to the Growth Hub, 2019
The Farm491 programme, commissioned in mid-2016, has been instrumental in supporting companies from local to international level to identify, share and engage with innovation opportunities in the agri-food sector and to drive enterprise acceleration. As a specialist agri-tech business incubator Farm491 facilitates the launch of startups and the growth of SMEs in farming, food production, land-management and environmental sectors. Farm491 is an exemplar of innovation-led knowledge exchange activity that has driven an increase in local employment and local growth through to international economic benefit.  
The Cirencester Growth Hub, located at the RAU, is a joint project with gfirstLEP which offers business support in the form of one-to-one business advice, workshops, affordable and professional co-working space, a collaborative community, incubator offices and meeting rooms. 
Winner of Enterprise Learning Provider of the Year, Institute of Enterprise and Entrepreneurs Awards 2019, the RAU's Enterprise and Entrepreneurship Programme (EEP) provides an inspiring and supportive environment in which students can share, develop and launch their business ideas.