We place a strong emphasis on entrepreneurialism, creating opportunities for our students to develop their own business ideas and receive tailored support. From student societies to workshops and awards, budding entrepreneurs can benefit from the knowledge and experience of their lecturers and the strong industry links the University has carefully cultivated over the years.
"Winner of Enterprise Learning Provider of the Year, Institute of Enterprise and Entrepreneurs Awards 2019"
Our award-winning Enterprise and Entrepreneurship Programme (EEP) provides an inspiring and supportive environment in which our students can share, develop and launch their ideas. Guided by lawyers, insurers, marketing professionals and accountants, students from all degree courses and years have the chance to realise their aspirations in a professional and rewarding environment.
As well as acting as a springboard for the business leaders of tomorrow, our celebrated programme has attracted the support of business leaders and PR sponsors across the UK, enabling us to organise networking events, enterprise workshops, mentoring services and inspirational talks.
Think it
Do you have an idea for a business, or are you keen to find that spark of inspiration? Our 'Think it' support provides you with the chance to attend idea generation workshops, inspirational talks from entrepreneurs, as well as meet with our Entrepreneurs in Residence to discuss your early stage idea.

Our support is open to all RAU students, from all degree courses and year groups. 
"The experiences from being part of the RAU Enterprise Programme were fundamental in me getting my dream graduate job as a purchaser - so thank you"

Elizabeth Boher, Graduate
Try it
Once you have outlined and researched your business idea you are empowered to 'Try it' and test your concept to prove that it works.  

The First Steps Fund provides students with proof of concept funding of up to £250 to help them test their business idea, as well as access to an external business mentor. Our business mentors provide at least 10 hours support to help you develop your business. In addition, our practical Wednesday workshop series provides you with the opportunity to enhance your knowledge in areas such as social media for business, branding, intellectual property and accountancy.  
"The First Steps fund gave me a great boost to get my business off the ground. I can honestly say my business would not be where it is without the fund and support from the Enterprise Team"

Jen Winnett, Graduate
Launch it
This stage is all about action and preparing your idea for launch. Students are provided with access to the RAU Enterprise team's bank of experts who include lawyers, intellectual property specialists, accountants, retail consultants and branding experts. To further support our budding entrepreneurs we also host a three-day Launch Camp, which provides an intensive start-up bootcamp covering all the key areas involved. 
Each year our entrepreneurial students are invited to enter our Grand Idea Competition and pitch their concept and business plan to our panel of expert judges who have included people such as Levi Roots (Reggae Reggae sauce) and Julian Dunkerton (co-founder SuperDry). Students pitch in the hope of winning £2,500 equity free to invest in their business.
"The Enterprise Programme gave me the confidence and support to be able to launch my first company. I am now beginning to launch my second company and I wouldn't be able to do it without their support"

Augusta Campos-Martyn, Graduate
Grow it
Students and alumni can make use of the Cirencester Growth Hub, a space which is based at the RAU and gives them the opportunity to work alongside other start-up enterprises from the local community, as well as utilise an extensive network of business contacts. Use of the building is free to students, and there is a 50% discount on membership for graduates.

Those students wishing to start an agritech business can benefit from free membership to Farm491, an innovative business incubator that provides high-spec facilities created to foster entrepreneurship, ideas generation and collaboration, as well as 491 hectares of Cotswold farmland for research and testing. 
The accolades
IOEE Centre of Excellence 2019
Enterprise Learning Provider of the Year, IOEE 2019
Shortlisted Guardian University Awards 2018 "Enterprise and Employability"
Shortlisted Rural Business Award 2018
Shortlisted Duke of York Award for University Entrepreneurship 2017
Runner up, The Guardian University Awards 2016 in the Entrepreneurship category
Finalist NACUE Student Entrepreneur of the Year 2016 (National Association of College and University Entrepreneurs)
Winner Cirencester Business Awards 2016 - Business Innovation of the Year
Winner NUS Green Impact Scheme 2016 - in both the Innovation and Community Engagement categories
Finalist Duke of York Award for University Entrepreneurship at the Lloyds Bank National Awards 2016
Winner Green Gown Awards - Entrepreneurship and Employability category
Media featured in:
BBC Radio Four Farming Today
BBC Countryfile
BBC Radio Gloucestershire
National and local press

Find us on Instagram: @rauenterprise and Twitter: @RAUEnterprise.
Glitta Glo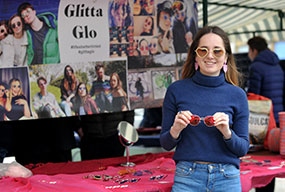 Glitta Glo is the business created by postgraduate student Maria Perry. The idea came to her when she was desperately searching for a new and exciting pair of sunglasses both to spice up every day outfits and to add a bit of sparkle when going out.
"The entrepreneurship programme at RAU was one of the deciding factors when choosing universities for my Masters. Weekly sessions with the programme takes participants through all stages of enterprise – from generating ideas, to marketing, to legal and financial guidance.
"Attending these sessions both developed my personal skills and provided an opportunity to hear ideas from my peers. The level of support from the Enterprise Team is invaluable. The close-knit community means that one-on-one contact time is readily available, providing both advice and expert contacts, leading to varied networking opportunities.
"Having arrived at the RAU with a retail business, the Enterprise Team supported me through the initial stages necessary to up-scale the business, before equipping me with an external mentor in industry.
"From funding to promotion, there are so many opportunities to benefit from."
The First Steps fund allowed us to launch our own company. This would not have been possible without the support and funding from the Enterprise Programme.
Rebecca Oborne and Susanna Crone
Quinces and Medlars
Discover our Undergraduate degrees
View our full range of Undergraduate and Foundation degrees and find the perfect course for you.