Date published:15 Jul 2019
The Royal Agricultural University has risen to become one of the top ten Universities in the UK - and the top-ranked University in the South West - for student satisfaction.
The RAU scored 89% in the recent National Student Survey (NSS) 2019 - up 7% from last year - and is now ranked 7th for overall satisfaction by the Times Higher Education*.
The NSS results, published by the Office for Students (OfS) form the basis of university league tables and allow potential students, their parents and teachers to make informed choices about Higher Education options.
The RAU scores above the national average for seven of the eight headline areas that students are asked about, with major progress being made in two key areas; "Student Voice" (up 15%), which assesses the opportunities students have to give feedback on their experience at University and "Organisation and Management" (up 13%), which is a measure of the way their degree is run.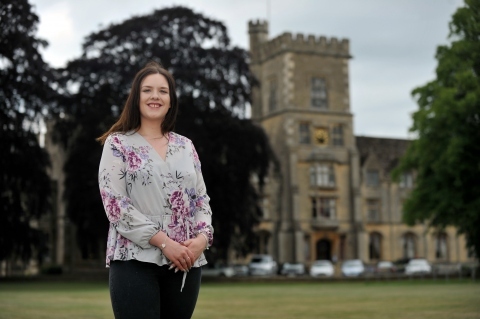 Professor Joanna Price, Vice-Chancellor of the RAU, said: "We are delighted with this very positive response which reflects our focus and commitment to providing an outstanding student experience. It is testament to the dedication of our academic, professional services and support staff who create a supportive learning community where every student matters."
Earlier this year the RAU was ranked in UK's top ten by the WhatUni Student Choice Award which is also based on feedback by students themselves.
In March the University became the first small, specialist University to be made a Centre of Excellence by the Institute of Enterprise and Entrepreneurs (IOEE).
Jess Godber, final year Real Estate student, said: "The RAU is like a family – you are not a number at this University. All the lecturers know your name and are more than happy to help with coursework, exams and work placement questions."
*Times Higher Education ranking of NSS Results (published 03/07/2019); does not include those universities with fewer than 1000 undergraduates or alternative providers.