Date published:14 Jun 2018
An idea to improve safety on farms has won a prestigious Dragon's Den-style competition for student entrepreneurs.
The Royal Agricultural University's (RAU) 11th Grand Idea competition asked students to pitch their plans to expert judges to secure £2,500 of investment.
Winner Alex Dunn, 21, a third year agriculture student, faced the impressive panel including Levi Roots, of Reggae Reggae Sauce; Julian Dunkerton, of Superdry; Christine Cross, former Group Business Development Director at Tesco; Charlie Beldam, a former student and creator of Cotswold Gold extra virgin rapeseed oil and the RAU's Vice-Chancellor, Professor Joanna Price.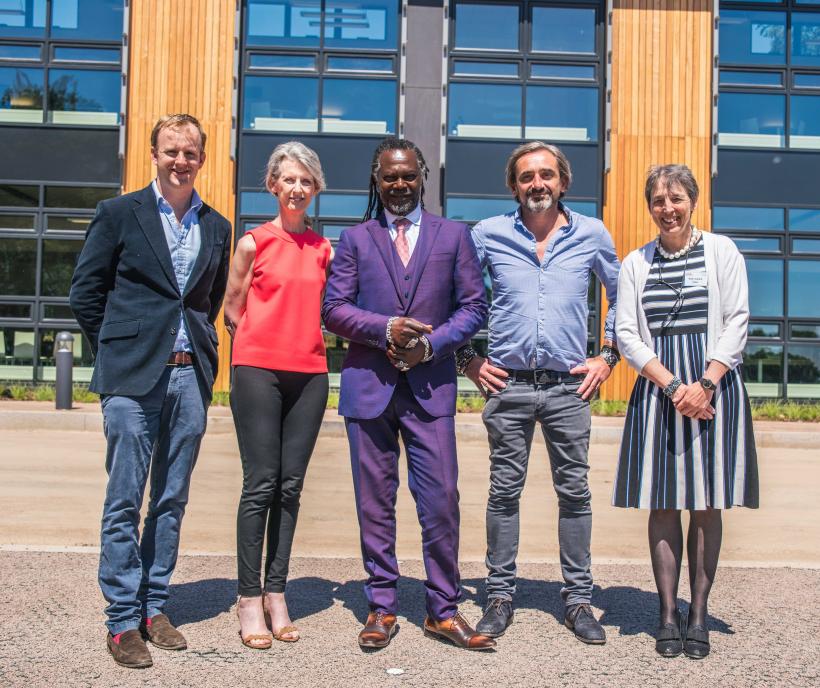 Alex found success because her business idea aims to improve health and safety on farms at the same time as productivity.
Alex, from Reading, said: "The scariest part of pitching was before I went in. I was nervous sitting outside but inside it went quite smoothly. They asked about financing and my plans to take the business forward.
"The University's Enterprise Society really helped me to develop my ideas, as well as a proof of concept and a business plan that was really scalable.
"What excites me most about the business is to be able to make a difference in the industry. It's not only agriculture here – there are people studying business and equine and you can learn so much – food production, for example, is going to be so important in the future. The University helps you develop any business idea you've got, whether it's related to the agricultural industry or not."
Runner up Alex Crawley, 36, a former Ghurka who fought in Afghanistan changed career to farming through the RAU's Graduate Diploma in Agriculture.
His Grazing Management business helps restore important rare grasslands (including here in the Cotswolds) which benefit from being grazed by hardy native cattle.
Alex said: "I think the idea resonated with the judges because it was about something bigger than just me or the business. The University offers great opportunities for service leavers – there are so many of us who enjoy working outdoors, being active and the camaraderie."
Levi Roots, who is also part of the RAU's Advisory Council, said: "I've be involved for many years, which I'm very proud of. You see so many diverse and different pitches. The key thing is passion – that the students believe in themselves.
"The business ideas coming along in recent years are much more technology focussed, talking about Blockchain for example. Things have really moved on.
"If you are a young person thinking about university I would definitely recommend the Royal Agricultural University. It has history but at the same time students here have great mentors and teachers – it starts there. If you have people that can inspire you, and influence your life, you are much more likely to take things in.
"If someone asked me what the difference was between Grand Idea and the pitch I did on BBC Dragons Den – this is not much different. I must have given one of the worst pitches ever – I wasn't perfect and got some numbers wrong. What the Dragons saw was passion. These students are the same. It's never just about the product, it's about the person as well."
Julian Dunkerton, co-founder of clothing brand Superdry said he was 'staggered by the quality' of the winning pitch from Alex.
He added: "The Grand Idea competition at the Royal Agricultural University is a fantastic concept. I'm enjoying being involved because it is exactly what I believe in for the future of this country, turning entrepreneurial ideas into real businesses and creating jobs.
"There are not many places where you can come and learn to be an entrepreneur –so it is a fantastic opportunity for those that are studying here and those who are going to be here in the future."
Katy Duke, Head of Enterprise at RAU said: "The two ideas that impressed the judges most were based on strong business plans and they also demonstrated great passion and determination to see their ideas succeed. Our Enterprise Programme includes mentoring and support to ensure students get the confidence and know-how they need to make it as an entrepreneur."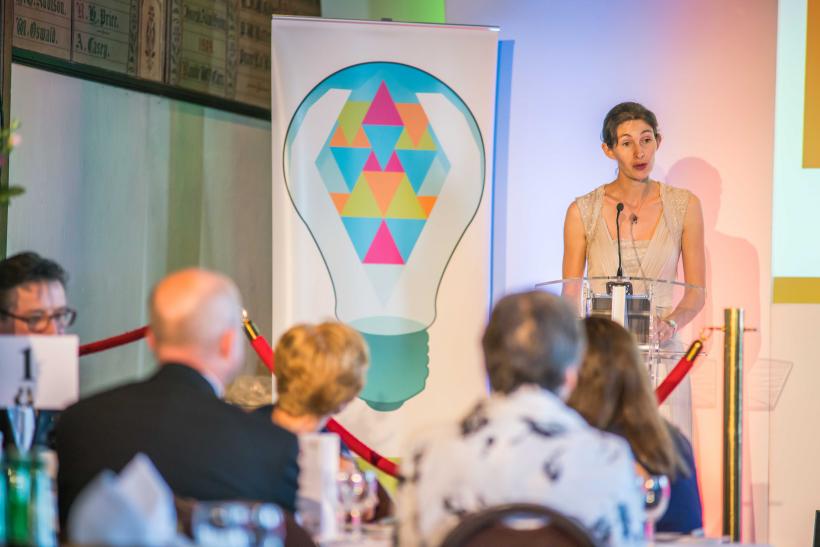 Over 11 years Grand Idea has received over 100 business ideas, and enabled many entrepreneurial students to launch and grow a successful business, such as BiJimini, which creates high-protein flour mixed with crickets.
The RAU was nominated in this year's Guardian University Awards in the Employability and Entrepreneurship category, thanks to its Enterprise Programme and support for students starting their own businesses.