Date published:04 Sep 2020
Senior Lecturer in Business Strategy Dr Inge Hill from the Royal Agricultural University's (RAU) School of Business and Entrepreneurship has won an Education Award from the British Academy of Management.
Dr Hill has received the award in the Experienced Practitioner Category within the Education Practice Award competition. She is the first female award winner.
The British Academy of Management (BAM) is the leading authority in the academic field of management in the UK, supporting and representing the community of scholars and engaging with international peers.
Now in its third year, the Education Practice Award from BAM is designed to recognise individual or team initiatives that enhance management learning and education.
Dr Inge Hill won the competition with her programme entitled: 'Pop-up Shops for Increasing Employability – enterprise for all through learning via doing.' The programme was judged by a panel of Business School Deans to be innovative and practical, with good theoretical underpinning; and to have had good impact and traction.
She was presented with the award on Wednesday 2 September at the BAM2020 Conference in the Cloud and awards ceremony, held virtually.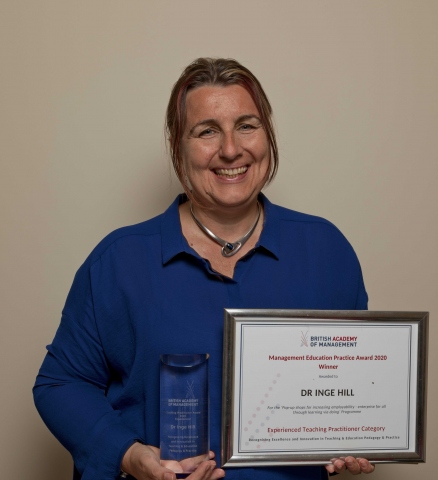 Speaking about her win, Dr Inge Hill said: "I am humbled to have been selected amongst the intense competition this year. I have been a passionate enterprise educator since 2002 and have influenced policy on enterprise education through Enterprise Educators UK (EEUK) now for three years as one of the Directors. This award means a lot to me and illustrates the growing recognition of the need for entrepreneurship and enterprise education across the curriculum."
Dr Inge Hill is a Senior Teaching Fellow of Advance HE (formerly the Higher Education Academy).
For more information about the BAM visit their website www.bam.ac.uk.
The RAU's School of Business and Entrepreneurship has an international reputation as a leader in business, enterprise, and entrepreneurial education for the rural economy. Find out more about the range of courses on offer.
The University's award-winning Enterprise Programme provides an inspiring and supportive environment, enabling students to develop and launch their ideas with expert help. In 2019 the RAU became only the sixth university, and the first specialist university, to be made a Centre of Excellence by the Institute of Enterprise and Entrepreneurs (IOEE).