Read about the experiences of three of our students who joined through Clearing.
Masie Rorison – BSc Agriculture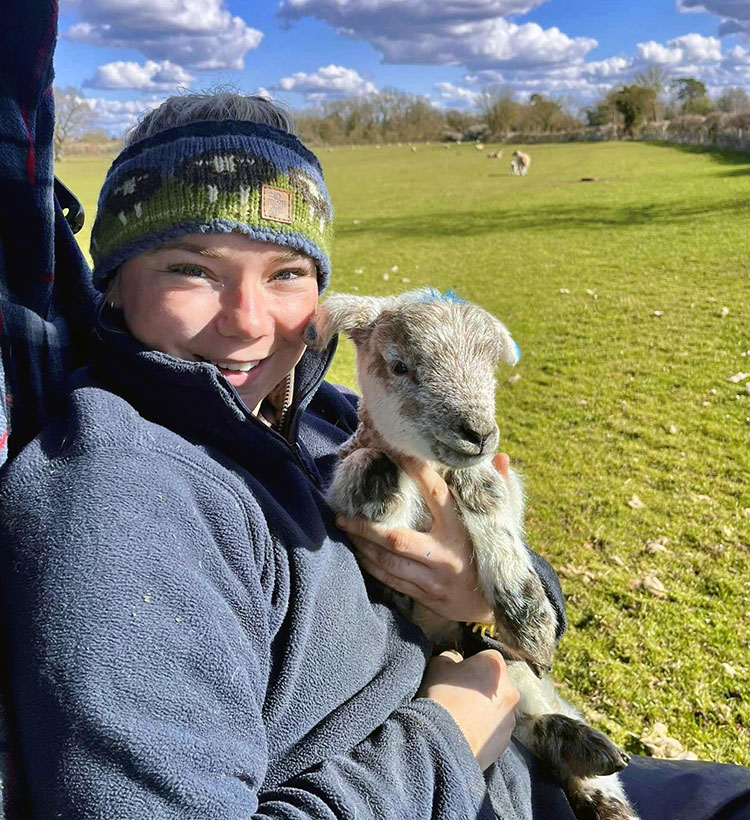 Due to the uncertainty of how the pandemic would affect my studies (foolishly thinking COVID would only be around for a year!), I decided to take a year out after completing sixth form.
I was set to study Security Studies at Canterbury Christchurch and, during my year out I did an online Bachelor's degree in Counterterrorism and Transnational Crime with an Australian university which I found fascinating.
However, the realisation that the rest of my adult life would potentially be spent sitting in an office in the middle of London, living the city-life, panicked me as I am an outdoorsy person through and through.
Despite not coming from a farming background, I have always picked up as much work experience on farms, and riding and racing yards, as I could, trying to spend as little time inside as possible.
After meeting some RAU graduates whilst working in racing, I realised that perhaps an agricultural university might be more suited to me. So, on the off chance that the RAU had space for me, I applied through clearing, just 10 days before I was due to move down to Canterbury.
I called the RAU Admissions team to see if there was room for me on the Agricultural Business course. Sadly there wasn't but there was space on the Agriculture course which I was told was very similar.
After confirming that it was possible for me to enrol, I had to bite the bullet and inform Canterbury Christchurch that I would not be joining them.
Although I had never seen the University, having only heard about it through my friends plus a bit of Googling, it was a big risk to take yet I knew deep down it was the right one.
I'm really enjoying my course. Although I would like there to be more practical sessions, there is still plenty of time for me to gain experience in my own time as well as through my 15 week placement module.
Most of the lecturers come from strong farming backgrounds, either having their own farms or having previously worked in the industry, so their knowledge is of a really high standard.
RAU life is great. The Uni is set within the most beautiful part of the UK. In terms of social life, we have some great local pubs, there are loads of shops in town including many charity shops to find something wacky for a REVA themed night or sports socials!
There are new societies coming out all the time - ranging from your typical sports teams through to 'cheese and wine' clubs and mountaineering. There is something for everyone. We all share the same core interests so it's easy to strike up a conversation with fellow students.
For me, I have found it super easy to pick up yard work - there are loads of equine teams looking for extra pairs of hands and they understand the need for us to be flexible to work around lectures. Local dairies are also always looking for relief milkers so that you can top up your 'beer money'!
Sometimes taking that leap is the right thing to do. Clearing is a really stressful situation but try not to panic. The University understands how worried you are and they really are doing their best to keep you informed on your academic and accommodation applications. They will get back to you as quickly as they can so try to be patient.
Ellie Pincombe - BSc Rural Land Management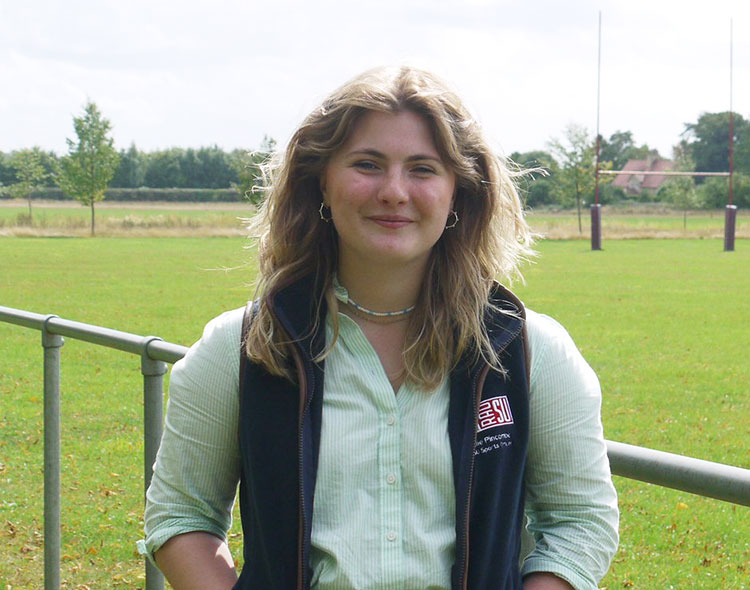 Pre-covid, I had offers from both Cardiff and Loughborough for Law, Politics and International Relations with the hopes to become a sports lawyer.
However, the pandemic meant that I never actually got to sit my A-Levels, leaving my teachers to decide my grades. As this method didn't favour me, I sat in my bed on results morning crying and wondering what I was supposed to do.
I had heard about the RAU and had always planned to have a look at some point but had never got around to it. So, after speaking to my boss's daughters, who were already students here, I gave the Clearing team a ring and decided that it was the place for me.
I never came for a visit or a campus tour before I started, or even knew where Cirencester was on the map, but as I was getting ready to arrive I started to feel a real sense of excitement.
Once on campus I was surprised at the homely feel and the sense of calm I had. During my Freshers Week there wasn't a day where I thought that I'd made the wrong decision. Though hard, my course is really rewarding with such a varied module list that it never gets boring and the lecturers are so helpful and accommodating.
Socially, there is nowhere else like Ciren. Though my first year was flooded with lockdowns and Covid rules, my year made the best of a bad situation and had more fun than I could have imagined which has only been enhanced since we've emerged from Covid restrictions this past year.
Coming to the RAU was the best decision I've ever made. If you're thinking about applying through clearing, my advice would be "Don't be afraid to take the leap, it's so worth in the end".
Henry Bull - BSc Rural Land Management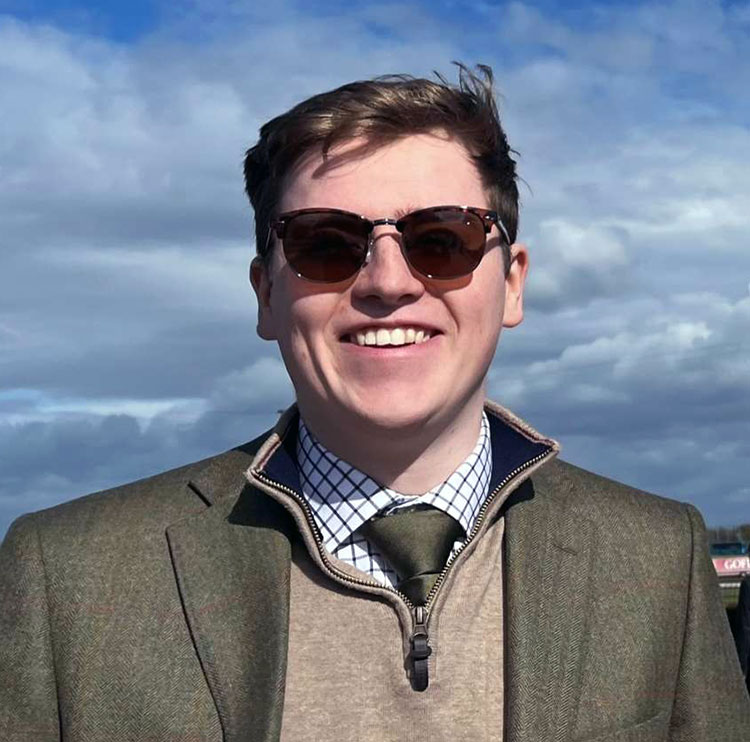 Before the pandemic I had offers from Exeter and Edinburgh to study International Relations with geography, however, due to the pandemic I never sat my A-Level exams.  
On the morning of results day, I can vividly remember getting the rejection emails from both Exeter and Edinburgh and seeing the highly unfavourable grades given by my teachers.  
Having spent two years working towards this point with ambitious expectations, everything was suddenly thrown into turmoil, and I was isolated trying to figure out what to do.  
Fortunately for me I picked up the phone to the RAU. All it took was a phone call to the clearing phone line and I had a place at university to study BSc Rural Land Management. The panic was over.  
On a rainy day a few days later, I found myself in Cirencester for the first time with my dad. We toured the campus and I remember standing on Bled lawn staring at the misty fields, I felt as if I was back at home in Suffolk.  
In the couple of weeks before fresher's week was to start, I decided I needed some time out of education and again I phoned the RAU. I was amazed by how the RAU accommodated me, giving me a guaranteed place to start a year later in September 2021. 
Coming to the RAU has certainly been a different experience to the universities I had planned to, but to anyone considering going through clearing to find a course I would definitely say go for it. You don't have anything to lose, and you might end up giving yourself an amazing experience.  
It might not be what you have or had planned but don't be scared to take the leap into the unknown. There are many different paths you can walk to get where you want to go, all you have to do is keep moving forward.