The Cirencester Growth Hub is open to everyone! It is an exciting place for the local business community to come together to work and learn in a collaborative and supportive environment. The Growth Hub also gives RAU students the opportunity to work with real start-up enterprises, using their knowledge to find and implement solutions to current industry problems.
Our space
Nestled in the capital of the beautiful Cotswolds and placed in between the RAU and Cirencester College, the Cirencester Growth Hub is the perfect place to work and meet like-minded professionals in a relaxed atmosphere surrounded by green spaces.
Whether you are a solo entrepreneur or part of a corporate team, the Growth Hub is the place for you.
Promoting entrepreneurship, innovation and business growth in the area, the Cirencester Growth Hub provides support to businesses of all types in the region, from pre-start through to existing companies and organisations looking to grow. 
There are co-working desks, hot-desks, office spaces and meeting rooms. Access to business advice and workshops, WiFi, parking, tea and coffee is included as standard.
You can access support from Business Navigators on-site in Cirencester, and other services throughout The Growth Hub network.
Booking a meeting space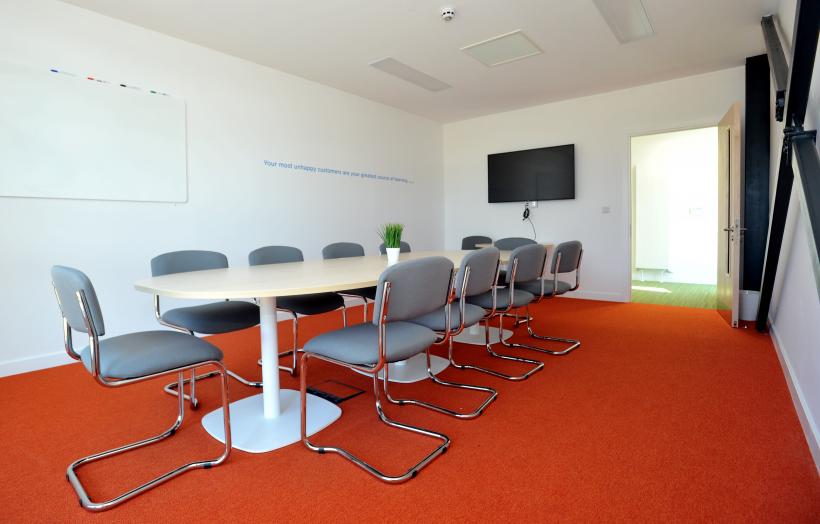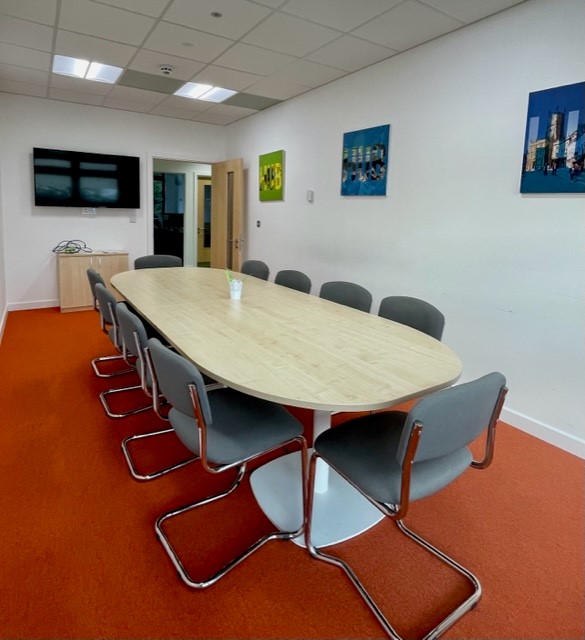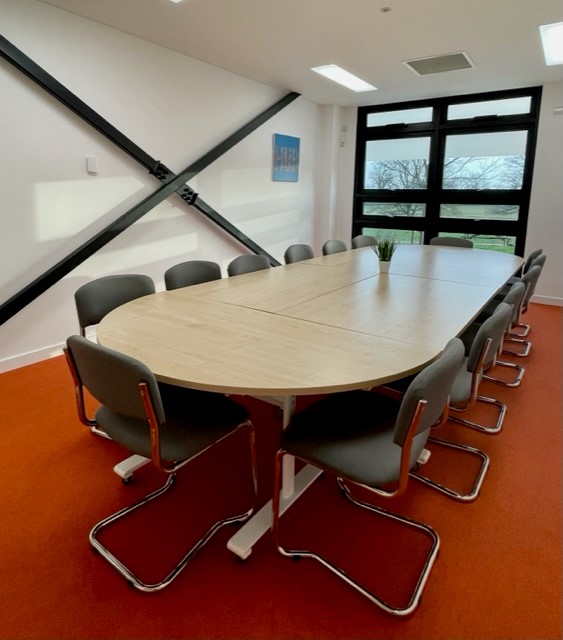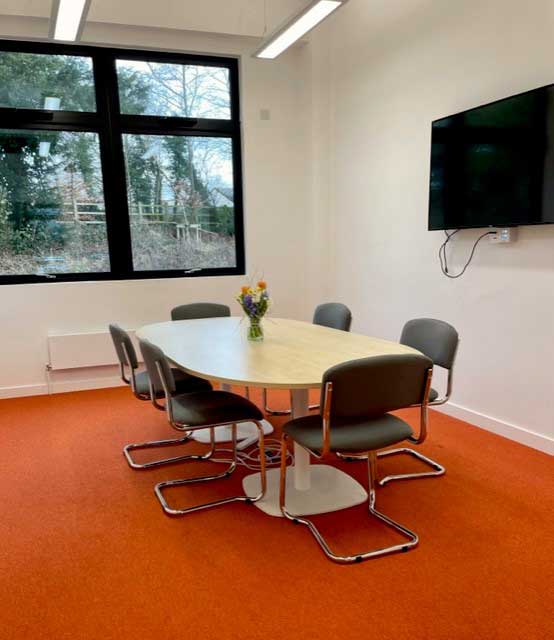 If you are looking for a private room to meet with your clients, team or partners, we offer three meeting rooms that can comfortably accommodate six to 14 people. All three rooms are bright, airy and modern, and have plug and play HDMI TV screens, free wifi, and all your hot drinks included.
Our meeting rooms can be booked on an hourly or full day basis. Click here to book a meeting room, and then click on Book a room.
The prices are as follows:
| Location | Room capacity | Hourly | Full day |
| --- | --- | --- | --- |
| Potting Shed | Up to 6 people | £30.00 | £120.00 |
| Granary  | Up to 10 people | £35.00 | £140.00 |
| Parlour  | Up to 14 people | £40.00 | £160.00 |
All prices are exclusive of VAT. If you are a Young Entrepreneur (under 25) or a not-for-profit organisation, a 25% off applies. 
Join our co-worker community
For £220/month, you can join us as a co-worker and benefit from the following:
A dedicated desk
A dedicated office chair
Unlimited speciality tea and coffee
A locker
Free parking
Free Superfast Wifi
Access to a printer
A postal address
8h/month of free meeting room access
A meeting room discount of 20%
24/7 access
Subsidised hot meals
Subsidised gym membership
If you want to be part of this buzzing community of like-minded professionals, come and have a chat and a look around. Already made up your mind? Register here and select the package or plan that's right for you.
Become a casual member
If you don't want to commit to being a full co-worker, why not join us as a monthly casual member? Just pay for five days or 10 days per month - or on an ad hoc basis (e.g. one day, four hours, two hours) -  and use our fantastic Growth Hub with many of the benefits of our full members. Please see below the different price options and benefits of our casual membership:
| Day | Price | Wifi | Free tea/ coffee | Printer/scanner access |
| --- | --- | --- | --- | --- |
| Drop in - 2 hours | £8 |   | Y |   |
| Half day - 4 hours | £15 |   | Y |   |
| 1 day | £25 | Y | Y |   |
| 5 days | £100 p/m | Y | Y | Y |
| 10 days | £200 p/m | Y | Y | Y |
All prices are exclusive of VAT. If you are a Young Entrepreneur (under 25) or a not-for-profit organisation, a 25% discount applies across all tariffs.
If you think that this kind of membership would be just your cup of tea (or coffee) simply click here, to create and select an account.
Apply for business advice and support
We are not only about co-working space here. The Cirencester Growth Hub is run by an in-house team of Business Navigators that can help you in your journey to business growth.
Upon registering on our website, one of our Business Navigators will check your eligibility and suitability across our range of support options and will offer bespoke support to your business provided that it shows moderate growth and high growth respectively.
Business support can be accessed remotely via our website, via telephone, or in-person at The Growth Hub itself.
In order to apply for support, please complete this application.
Become a service partner
If you have what it takes and would like to share your expertise at the Cirencester Growth Hub by delivering talks, workshops and specialist support, please contact us to become a service partner.
Visit us
Opening hours, Monday - Friday 9:00 am-5:00 pm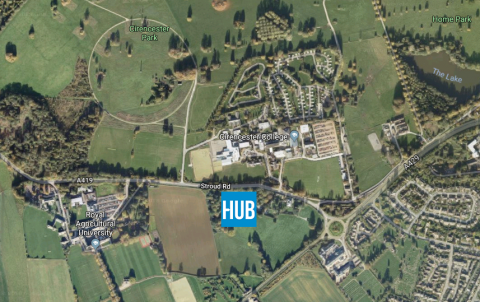 The Growth Hub
The Alliston Centre
Stroud Road
Gloucestershire
GL7 6JR
Follow us on Twitter: @growthhubciren
Follow us on Instagram @growthhubciren
The Cirencester growth hub team are excited to welcome you to this fantastic space for business and happy to help in any way we can.
If you are looking for a private room to meet with your clients, team or partners, we offer 3 meeting rooms that can comfortably accommodate 8 to 14 people. Click here to book a space now.