The University has a wide range of catering options available on campus, whether you want to grab a sandwich, enjoy a coffee with friends, or have a freshly prepared meal in our restaurant.
The Restaurant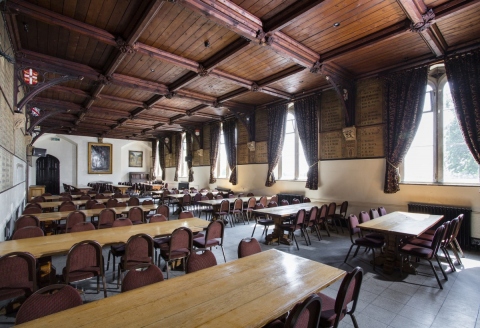 The Restaurant is on the east side of the main quadrangle, serving a range of high quality, healthy and hearty meals. The menu changes with the seasons and we like to provide variety, taking note of significant days or weeks, and catering for all diets.
We take sourcing our ingredients very seriously, favouring ethical, higher welfare and local producers who use responsible methods to minimise wastage, packaging and environmental impact. Alongside this we have set a goal of using 70% British produce by the end of the academic year 2019/20 – the first university to our knowledge to set such a target.
View a sample lunch menu (PDF)
View a sample dinner menu (PDF)
Meal times are as follows (term time):
Monday - Friday
Breakfast
8:00 – 9:30
Lunch
12:00 – 13:30
Dinner
17:30 – 18:30
Saturday - Sunday
Brunch
8:00 – 11:00
Dinner
17:30 – 18:30
Non-residents can pay at the servery for meals. See below if you have purchased a meal plan.
Meal plans
Meal plans are sold as half board and are loaded as tokens onto your RAU Unicard. Meal tokens can only be used in the Restaurant; your daily tokens will expire at the end of the allocated day and cannot be carried over.
Term time only

Half board

(14 meals per week)

Monday - Friday

Breakfast & Dinner
Saturday - Sunday
Brunch & Dinner
The Catering team are able to cater for special diets but please advise us of your requirements when booking your accommodation.
We would love to have your feedback and are happy to answer any questions or queries you may have about the Restaurant, simply email accommodation@rau.ac.uk
The Retreat Café
The Retreat Café is situated in the Atrium between the Emrys Jones Building and the Library, students are welcome to come in to relax, socialise and study. The café serves barista coffee from Mozzo to enjoy on one of our comfy sofas or takeaway. Mozzo echo the RAU's values around sustainability and the environment, investing 5p for every kg of coffee sold into the C2C Fund.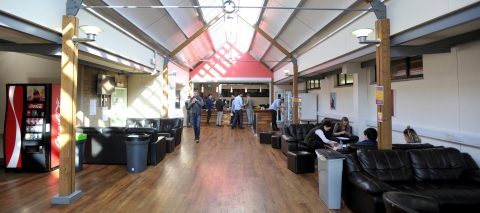 The Retreat Café serves a wide range of goods including homemade and pre-prepared hot and cold sandwiches, Paninis and wraps as well as a selection of healthy or indulgent snacks and cold drinks. Regular opening times are:
Monday – Friday 8:30 – 16:30
We will update you on any changes to these opening hours (such as public holidays) via the digital display screens around campus and your weekly RAU email newsletter.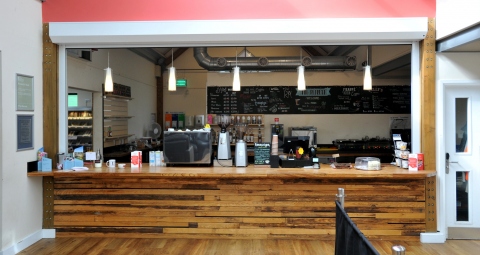 RAU Shop
The RAU Shop is located next to The Retreat Café in the Atrium and provides a great range of essentials including local and RAU produced products, snacks, treats, clothing and merchandise. You can also browse our assortment of alumni products such as: greeting cards, clothing by ODMax, Severan Hills Jerky, and Cotswold Hills Wine.