Date published:04 Oct 2021
Chinese higher education entrepreneur Tiger Wang, RAU Vice-Presidents Lord Bathurst and Simon Pott, and former Student Liaison Office Sarah Tennant-Bell, all received honours at the RAU's recent Graduation ceremony.
Tiger Wang, Lord Bathurst, and Sarah Tennant-Bell all became honorary fellows of the RAU while Simon Pott was presented with the University's inaugural Lifetime Achievement Award.
Tiger Wang, who studied an MBA at the then Royal Agricultural College (RAC) between 2001 and 2003, co-founded Sino Campus International Education, one of China's most innovative education organisations, in 2011.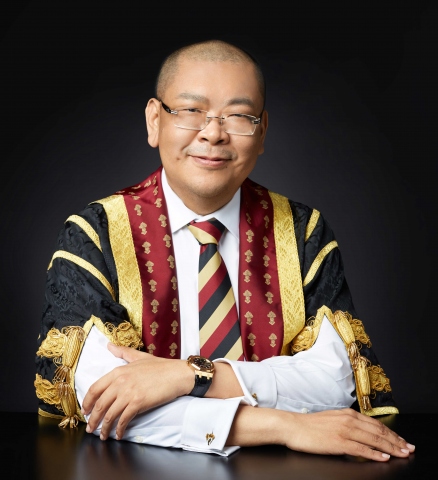 Sino Campus has already developed more than 1,300 educational partnerships – including the RAU's successful partnerships with Shandong Agricultural University, Qingdao Agricultural University, and Shenyang University - and has a network of nearly 30,000 university and college officials, leaders, and consultants.
Receiving the award virtually, Tiger said: "It is my great pleasure and an honour to receive an Honorary Fellowship from the RAU and is something I will treasure for the rest of my life. The RAU and Cirencester will always be in my heart and I could never have imagined the journey we have taken together when I arrived on its doorstep 20 years ago."
Lord Bathurst, who owns and runs the 15,000-acre Bathurst Estate in Cirencester, studied Advanced Farm Management at the RAC in 1984, became a Governor in 2001, and was made a Vice-President when he stepped down as a Governor in 2016.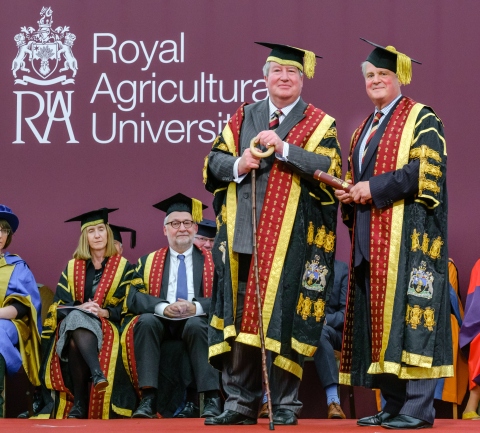 He is involved with many local charities and is committed to the countryside. He set up the Cotswold Show in 1989 and is President of Gloucestershire's Farming Wildlife Advisory Group, vice president of Gloucestershire's Royal Forestry Society, and many other local organisations.
Through a commercial agreement, the Bathurst Estate offers practical examples and experience to RAU students across aspects as varied as estate and woodland management, areas of heritage interest, and renewable energy projects, to community activities, leisure and sporting potential of the parkland, arable and livestock enterprises, and records.
Speaking at the ceremony, Lord Bathurst said: "I have very much enjoyed my involvement with the RAC/RAU over the years and it is a very great honour to be receiving this Honorary Fellowship."
Sarah Tennant-Bell joined the RAC as an Examinations Officer in 2004 and a year later, encouraged by students to apply, she took the position of Student Liaison Officer responsible for student welfare and discipline, and the Student Union, leading a team of elected Student Union officers.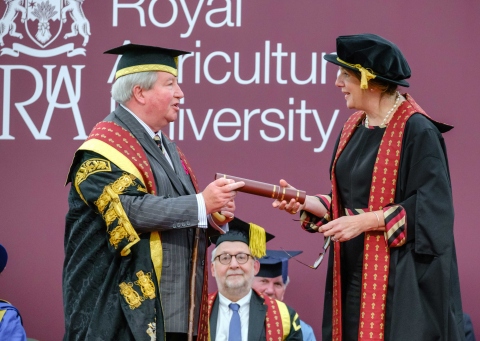 Sarah, who was nominated for the Honorary Fellowship by the students, fostered a sense of community in the student body and was committed to improving relationships between the RAU and the town of Cirencester.
She left full-time employment at the RAU in 2015 but continued to support the Student Union in an advisory capacity before returning, from September 2020 until June 2021, as the RAU's Acting Head of Student Services.
Sarah said: "Every student journey is different and I'm proud to have supported and encouraged thousands of RAU students over the years. I feel immensely honoured to receive an Honorary Fellowship for doing a job that I love."
Suffolk chartered surveyor, land agent, and auctioneer, Simon Pott has been associated with the RAU for more than 50 years after joining the then RAC, to study for a diploma in Rural Estate Management, in 1970.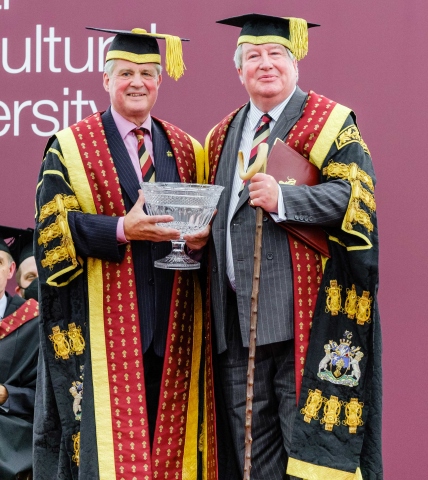 While a student he was chairman of the Union Club and chairman of the Estate Management Club and in 1975, having left the RAC, he was made Chairman of the RAC Association.
He became a Governor in 1988 and in 2005 he was elected as Chairman of Council of the RAC, a position he held until 2011 when he was made a Vice-President. He is an Honorary Fellow of the RAU and has been involved in a range of projects that have helped the University develop and maintain its high profile.
Having been presented with his Lifetime Achievement Award, Simon said: "I am absolutely thrilled to receive this award. It has been a huge privilege to be involved with the College, and now with the University, through all sorts of times - some quite difficult and some incredibly enjoyable - but I have absolutely loved it all!"
RAU Vice-Chancellor Professor Peter McCaffery said: "These awards recognise the extraordinary passion and commitment, not to mention the support and service, that these recipients have given to the RAU over the years. They are an inspiration to our students and I am delighted that they have been recognised in this way."