Date: 31/05/2022
Hedgehog Update!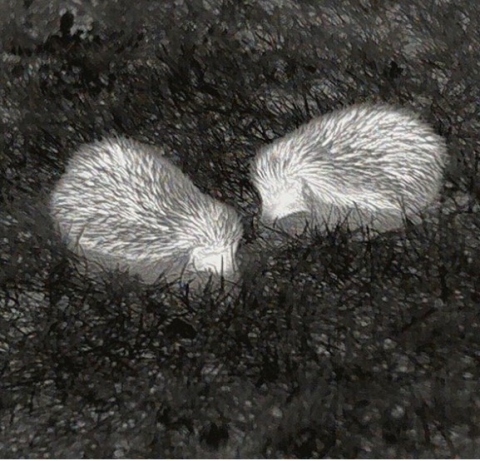 It's estimated at one time in the UK there were as many as 30 million hedgehogs, now it is thought as little as 1.5 million remain. The Wild Campus project has signed up to participate in the hedgehog friendly campus, dedicated to enhancing habitat and awareness for hedgehogs across the UKs education districts. The hedgehog friendly campus works alongside the British Hedgehog Preservation Society which is a BHPS funded award programme supporting schools, colleges and universities that make impactful changes for hedgehogs
Staff and students have been surveying the RAU campus using a variety of surveying techniques such as torch search, ink tunnels and thermal imaging cameras. The project was lucky enough to be loaned thermal imaging scopes from John Matthews, brand ambassador for Infiray UK which gave the team their best results with up to ten hogs seen on campus in a single night, highlighting the RAU as a haven for one of the UKs most declining mammals.
Wild Campus will be working with schools and students in the coming months to spread the word about hedgehogs and the wild campus, educating young minds on the increasing risks for hedgehogs, what to feed them and what to do when they find a sick or injured hedgehog. Spreading awareness to the wider public is crucial for hedgehog conservation and there are a variety of ways people can help in their own gardens and become a hedgehog hero.
Check links below for more information:
If you've found an injured hedgehog: https://www.britishhedgehogs.org.uk/found-a-hedgehog/
Wild Campus Instagram: https://www.instagram.com/wildcampusciren/
Hedgehog Friendly Campus: https://www.britishhedgehogs.org.uk/hedgehog-friendly-campus-2/
Create a hedgehog friendly garden: https://www.britishhedgehogs.org.uk/creating-wildlife-garden/
Date: 31/03/2022
The Wild Campus project is developing wildlife habitats across the Royal Agricultural University and Cirencester College, connecting wildlife populations, enhancing biodiversity, whilst investing in community wellbeing. Initially due to start in 2019 the project was delayed by one year because of covid restrictions. It finally began to take shape in May 2020 with students from the British Wildlife Conservation course hired to help see the project reach its targets set out by the European Regional Development Fund.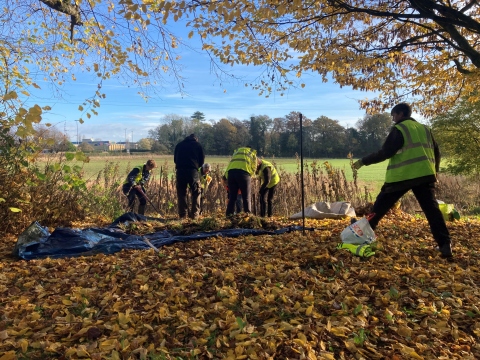 Two years on and the project has made a significant difference across all campuses, wild areas on the edge of sports pitches have encouraged plant diversity and wildlife, hardy shrubs have provided rich nectar for pollinating insects and the bird boxes installed have been occupied, nests made and eggs laid. It is projects like the Wild Campus that are helping nature bounce back and with one more year left on the project there is still much work to do.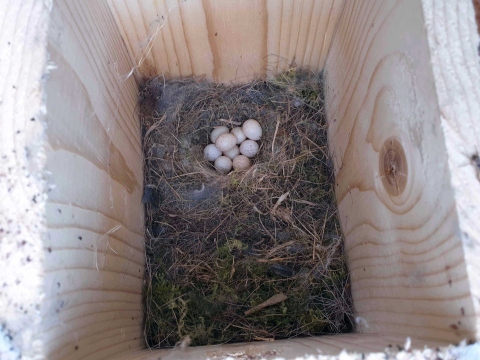 The project has so far dedicated 4ha of 'no-mow' grass sward diversification with more to be added this year. Over 1000 hardy shrubs, trees and hedges have been planted across the RAU and Cirencester college campuses with around another 1000 hardy shrubs due to be planted. Up to 3km2 of wildflowers have been sown across both sites, including the Alliston centre and more is to be sown this year further increasing the pollen rich nectar, encouraging insects, birds and mammals.
150 bat and bird boxes will be installed by the end of the project, including kestrel and woodpecker specialist boxes, as these species are regularly seen at the RAU. Fifty house martin nests will be installed and encourage our summer visitors away from nesting on the main campus and accommodation buildings and possibly bring more to the campus. We have so far built three of five reptile winter refuges which are already showing positive results. Two of five hedgehog homes have recently been constructed and we have joined the hedgehog friendly campus campaign to help the declining hedgehogs bounce back and finally the lighting around campus is due to be changed to bat friendly lighting to help movement between populations of declining bat species.
Now spring is here we can start to survey the wildlife around campus and get a better idea if the project has influenced wildlife in the two years it has been running. We have previously surveyed butterflies and moths, the night and day pollinators. Reptile surveys are currently underway as well as bird surveys which are conducted all year round. From May to November the project and students will be surveying for hedgehogs in a variety of ways and there are also cameras placed over campus ready to snap any mammals that pass by.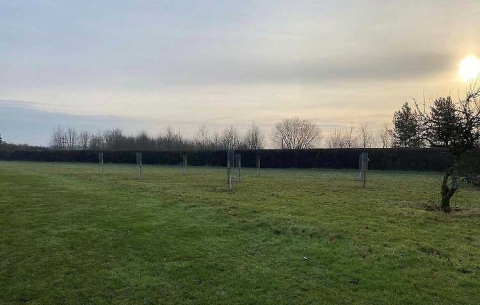 This work isn't just completed by the employees of the Wild Campus, students from all courses are encouraged to get involved and join the conservation club every Wednesday afternoon. Anyone who wishes to come along can be a part of lasting legacy at the RAU which will benefit wildlife, students and the local community for years to come. If you wish to be involved, or have any questions please email wild.campus@rau.ac.uk or follow our Instagram @wildcampusciren and get in touch. We look forward to hearing from all the naturalists and wildlife enthusiasts who want to do their bit.
By Liam Collins