Graduate Diploma in Agriculture
Location
Royal Agricultural University Campus
Duration
1 year (full time) or 2 years (part time)
Academic Year
30 September 2024 to 30 May 2025
This intensive course in agriculture is unique to the Royal Agricultural University and provides an opportunity for graduates or professionals in other disciplines to re-direct their careers towards agricultural and associated rural industries.
Course overview
This is a unique opportunity to create your own bespoke, agriculture focussed, course in a way that will help you realise your ambitions, whether you are a student who has already graduated or a professional with plans to advance your career in the rural industries.
Not only will you gain a detailed understanding of the UK agricultural industry, you will be given practical rural skills training at the RAU's cutting-edge John Oldacre Rural Innovation Centre.
It is likely that you will have already acquired elsewhere a range of intellectual and transferable skills. However, this programme enables you to:
Demonstrate your commitment to the notion of continuing learning
Utilise your existing skills in pursuit of new knowledge and understanding
Develop new professional skills applicable to agriculture, farming and land management
While many graduates find work as farm managers, farm assurance scheme officers and agricultural consultants, to name a few, others wish to progress onto a Masters course.
Read more about the farms that we learn from.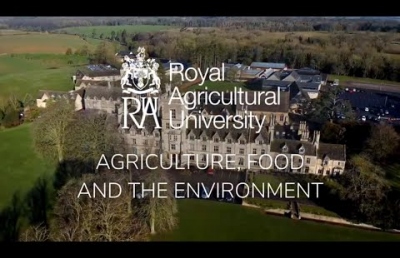 Course content
The course may be studied full-time over one academic year, or part-time over two years.
You will complete four compulsory modules, followed by four modules selected from a wide range of undergraduate modules allowing you to tailor the course to meet your career aspirations.
As well as lectures, farm walks and visits, you will work on case studies, assignments, and management projects.
Prospective students are strongly encouraged to complete pre-course reading in order to secure a minimum basic knowledge of agriculture and to highlight possible areas of weakness.
The in-person teaching sessions and study tour visit for core modules, for both full time and part time students, are timetabled on a Tuesday each week for the full year (both semesters).  This allows you to fulfil other commitments you may have, such as work, family and interests. 
The modules available for this course are shown below. They may change for your year of study as we regularly review our module offerings to ensure they're informed by the latest research and teaching methods.
Modules
1125 Agriscience
2372 Animal Health and Welfare
2373 Agronomy
3337 Sustainable Farm Management
Students must then select four further level 6 modules from the selection below:
3090 Forestry and Woodland Management
3098 Countryside & Environmental Management
3223 Ecological Consultancy
3238 Advances in Livestock Nutrition
3239 Crop Health and Protection
3323 Food Ethics and Governance
3329 Climate Change and Natural Resource Challenges
3330 Technology and Agroecology Innovation
3331 Food Supply Systems and Policy
3333 Wildlife Behaviour & Evolution
3338 Agronomy Challenges and Solutions
3339 Livestock System Challenges and Solutions
4278 Organic Systems
The availability of electives to individual students will be dependent on timetabling considerations and on sufficient students electing to take part.
Disclaimer information
The University has established various rules and regulations that you must agree to and follow if you accept an offer to study with us. View our full disclaimer notice.
Read More
Careers and graduate destinations
The rural land industry opens up multiple career prospects for successful graduates, including:
Farm managers
Agricultural commodity sales/trading
Agricultural consultants
Agricultural research/trials officer
Farm assurance scheme officers
Livestock feed analysis
Crop agronomy
"It shows you there are ways of making money and ways of making a business work which aren't necessarily the ways you've been brought up with."

Jake Renwick, Student
Read More
Entry requirements
View entry requirements here ...
The Graduate Diploma in Agriculture comprises a programme of study that requires graduate (Honours Degree) level entry or its equivalent, and has learning outcomes that match qualifications at Honours degree level. As a result, the programme is affected by the UK Governments' policy on Equivalent and Lower Qualifications [ELQ] whereby such students are not eligible for funding support through the Higher Education Funding Council for England.
Candidates will normally have a first degree from a discipline other than agriculture, awarded at 2:2 or above. Equivalent overseas and other UK qualifications may be accepted at the discretion of the University.
Applicants of 25 years and over may seek admission on the basis of a curriculum vitae, but evidence of ability to study at degree level, such as proven managerial level experience, is essential.
A period of relevant practical work experience within the agricultural industry is recommended as a means of enhancing understanding of the industry and the relevance of specific modules towards future career goals, but is not a prerequisite of joining the programme.
International students will also need to achieve IELTS Academic or equivalent at the appropriate level for your programme of study. English language requirements for international students.
Read More
Fees
View fees content here...
Tuition fees cover the cost of a student's academic studies. This usually includes teaching costs, registration and examination fees (not repeat or trailing module fees or dissertation extensions). Students may enter practical farming after completing the programme, although it should be noted that proven practical farming abilities may be required by some employers prior to engaging in direct production agriculture. This can be supported by accessing rural skills training at our John Oldacre Rural Innovation Centre.
2024-25 Applicants
For the academic year 2024-25 the tuition fees for this course are: 
|   | UK | Overseas** |
| --- | --- | --- |
| Full-time | £9,250 per year | £15,300 per year |
| Part-time | £4,625 per year | N/A |
** Please note: International students can study on a part-time basis only if they are in the UK with a different type of visa (other than Student Visa/Tier 4 General) that allows them to undertake part-time study and their visa does not expire prior to the end date of the proposed course of study.
Please contact admissions@rau.ac.uk before you apply to confirm your eligibility.
Tuition fees may be subject to an inflationary increase each year as set out in our Access and Participation Plan 2019/20.
For full details, please visit the fees and funding webpage.
Scholarships
The University offers a range of generous fee waivers and bursaries. To find out more about the scholarships, awards and bursaries available, please visit the scholarships webpage.
Read More
Applications for 2024 entry will open in Autumn 2023
Applications to study for postgraduate degrees need to be made directly through the University using the online application form on the website. 
Alternatively, if you are unable access the online form you can call Admissions on 01285 889 912, or email admissions@rau.ac.uk.
We recommend applicants keep a copy of the completed form for their records. 
Application deadline:
EU and overseas applicants must submit their application the latest by 17 July
UK applicants should aim to submit their applications the latest by 24 August
Results deadline:
EU and overseas applicants will need to meet their conditions by 1 August  
UK applicants will need to meet their conditions by 31 August
If you are applying for a 2024 Chevening Scholarship you can submit your scholarship application prior to receiving a course offer. Further details can be found on the application timeline and eligibility criteria sections on the Chevening website.  N.B. Course applications for entry in September 2024 will open on our website closer to November 2023.
Applicants will be notified via email once a decision has been made and decision letters will be emailed to you. If there is a deadline by which applicants must accept an offer of admission or pay a deposit, this will be stated in the offer letter.
LATE APPLICATIONS from UK applicants for September 2023 entry must be fully submitted by 9am on Friday 29 September 2023.
SEPTEMBER 2024 APPLICATIONS will open closer to November 2023. Please check back to our website around this time to apply.