The cluster's research focuses on the relationship between equine behavioural neuroscience, gastric health and dietary manipulation of stabled performance horses, and makes a significant contribution to horse welfare.
The holistic approach involves behavioural and physical health profiling to reveal the triggers of gut dysbiosis and aberrant behaviours. The team has developed several innovative testing methods that are effective, non-invasive and low cost, but with high animal welfare impact. Much focus has been directed towards improving gut and respiratory health by developing novel feeds, pre-feeding treatments that remove airborne particles from fodder to reduce respiratory diseases, and increasing the understanding of stereotypy behaviour (crib-biting) and its underlying causes.
Cluster members
Associate Professor Andrew Hemmings
Dr Sinclair
Current doctoral and MRes research projects
| | |
| --- | --- |
| Mark Ebert PhD | 'Determining energy requirements in horses' |
| Emily Orchard PhD | 'Cognitive function and learning capabilities in the stereotypy performing horse' |
| Bethany Waring MScR | 'Haylage quality and the impact on gut health in horses' |
| Taylor Hill MScR | 'The effect of prebiotics on the horses microbial function and metabonome during management changes' |
| Susan CoMartin MScR | 'Stress in feral and domesticated native ponies' |
| Miranda Filmer MScR | 'Re-hydration in horses' |
| Aine Ryan MScR | 'Thoroughbred horses' |
Academic and industry collaborators: Professor Meriel Moore-Colyer, Haygain Ltd, Nottingham University
Funding source: Haygain Ltd
Equine respiratory disease is highly prevalent in our horse population with anything between 80- 95% occurrence in performance horses and thoroughbred racehorses. The most debilitating form of these is severe Equine Asthma (sEA) which manifests as loss of performance, coughing and respiratory distress at rest. Airborne respirable dust (ARD) in the stable is a well-known cause of this allergic condition, and for the last 10 years Prof Moore-Colyer has led the collaborative project with Haygain Ltd and University of Nottingham to elucidate the main allergens in stable dust and find effective and practical ways to reduce the dust: horse interaction. This work has led to the development of the Haygain range of high-temperature hay steamers which have been proven to reduce ARD by 99%, killing fungal spores and reducing bacteria by 90%.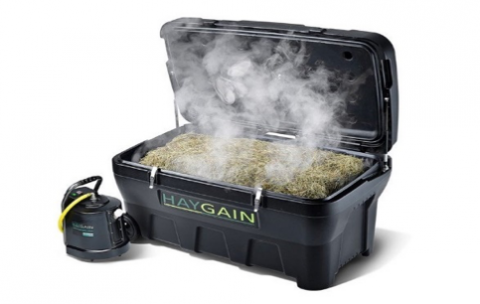 The recent work supported by the Fred and Marjory Sainsbury Trust, by PhD student Sam White expanded current knowledge on allergens for sEA showing that larger ARD such as tree and grass pollen and latex rubber previously unknown to be problematic for stabled horses, are in fact very strong allergens. Maintaining gut and respiratory health while providing the necessary nutrients to keep horses healthy has also been a strong theme throughout this work and MScR projects carried out by Becky James, Jessica Taylor, Jacob Hepworth and Abby Hooky have examined a range of different aspects relating to nutrient and microbial contents of treated forage and management techniques to ensure horses have the best air quality and hygienic forage when stabled. Work is on-going in collaboration with research groups in Canada, USA and Europe supported by a vibrant knowledge exchange programme so horse owners can benefit from the latest research.​
Academic collaborators: Dr Simon Daniels, RAU, Prof Jo-Anne Murray, University of Glasgow
Commercial partners: AB Vista and Mars Horsecare
Dr Simon Daniels is currently working on three areas of equine nutrition and digestive health. The first is a range of digestibility experiments in collaboration with Prof Jo-Anne Murray from the University of Glasgow alongside commercial partners AB Vista and Mars Horsecare. These studies are focussed upon improving fibre digestibility and therefore focus on feeding differing fibre diets to ponies alongside probiotics or differing pre-feeding treatments to the feed to improve fibre degradability in the horse. Fibre is the most important element of a horse's diet and improving our understanding on maximising digestibility of this substrate is paramount to horse health and welfare. Our work involves monitoring feed intake and feeding behaviour in the ponies and using free catch faeces to determine the nutrient apparent digestibility of the diets.
Alongside these nutrition studies, we are developing an improved in vitro digestibility system which is being validated alongside our involvement with in vivo digestibility trials. Whilst currently in vivo studies feeding ponies and measuring output are seen as the gold standard, lab-based models are much more economic and time saving and reduce the use of animals in research. We are working with colleagues at Glasgow, Wageningen and Utrecht Universities to develop a total tract equine digestion in the laboratory which closely resembles that achieved when feeding horses.
The third area we are currently investigating is the links between a horse's gut brain axis through the microbial community profile and metabolic profile of faecal samples as a proxy for the horse's hindgut and using non-invasive probes of neurological activity. It appears the diet can influence gut health, overall health and behaviour and we are currently exploring this in horses to identify how diet may influence diet, behaviour and welfare.
Academic collaborators: Dr Andrew Hemmings and Dr Sebastian McBride, Aberystwyth University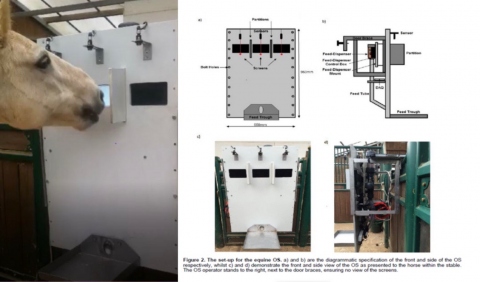 Dr Andrew Hemmings and PhD student Emily Orchard, are currently working on the learning capabilities of the stereotypy performance horse using newly developed automated learning tasks. Stereotypies are characterised as repetitive and rigid behaviours with no apparent function or goal, these behaviours are deemed as abnormal and are often labelled as 'vices' (unwanted behaviour), with some owners choosing to focus on preventing the behaviour rather than discovering the underlying cause. The preventative methods can often be uncomfortable, painful and potentially cause stress to the horse.
This work is developing a system for accurately measuring spontaneous blink rate, which is a proven biomarker for dopamine production in horses, and combining this with the newly developed automated learning tasks equipment developed at RAU in 2019. Common assumptions held within the equine industry will also be addressed in order to improve current knowledge and understanding of stereotype.
The overall aim is to determine if learning in stereotypy performing horses is different to normal horses and how this might impact upon practical training advice and thus reduce the use of negative management techniques for these horses.