Applying to the RAU
Applications to study at the Royal Agricultural University must be made through the UCAS system. This applies to all undergraduate courses and to all applicants from Home or Overseas.
All applications to study at the University are considered on academic grounds and candidates who may need additional support are encouraged to discuss their potential requirements with the University as early as possible in the admissions process to ensure these can be fully provided for.
The University is committed to achieving equal opportunities for all of its students and actively encourages potential students who may be disabled or have specific learning needs to make an application to study at the Royal Agricultural University. The University aims to create a supportive environment in which improvements to services and facilities, and progress towards a fully inclusive environment, are constantly sought.
Further advice and guidance for students with disabilities or specific learning needs can be found here.
Applying to study
Please complete your application by the UCAS deadline to ensure we are able to offer you a place on your first choice course. If you have missed the undergraduate application deadline of 15 January do not worry as you can still apply via UCAS, late applications can be sent through UCAS until 30 June.
You apply online through UCAS where you can make up to five applications. Once you have submitted your application you can monitor its progress through UCAS Track.
Overview of your studies at the RAU
What to expect as an HE student at the RAU
Studying at university is a very different experience from studying at school and college – it's an exciting time and one that we are sure you'll enjoy, but it is also a period of adjustment and its useful for you to know what university life is like and the expectations of staff and students. The aim of any higher education programme is obviously to introduce you to the most up to date developments in your chosen area of study, but a university qualification does so much more than that. At the RAU we feel that, just as important as the subject knowledge, are the skills and qualities that are going to make you highly employable and valuable members of your chosen professions. We have identified 6 key attributes that we believe make our graduates stand out from all the others and these are:
Professionalism, resilience, innovation, global and environmental awareness, collaboration and business acumen
All of our academic activities are geared around the development of your knowledge, intellectual skills and graduate attributes such that you can adapt and grow to meet the challenges of tomorrow. Below are a few pointers to get you started on your higher education journey, but if you have any questions it's important that you ask and get the answers.
What does the academic year look like?
The Higher Education academic calendar is shorter than most school and college years, being just 30 weeks of timetabled contact time, split across 2 semesters. Each semester has 15 weeks and includes an examinations and feedback period at the end of each one. Week 1 of the academic year starts at the beginning October and there will be a continual run of 10 weeks until the break for Christmas, with the remaining 5 weeks of semester one running through January and ending early February. Semester 2 then begins and runs until the end of the academic year in June, with an Easter break usually at the end of March. In addition to these formal teaching weeks, there is also a Fresher's week and induction. The generic academic calendar can therefore be summarised as being 3 terms of ten weeks each which are organised into 2 semesters.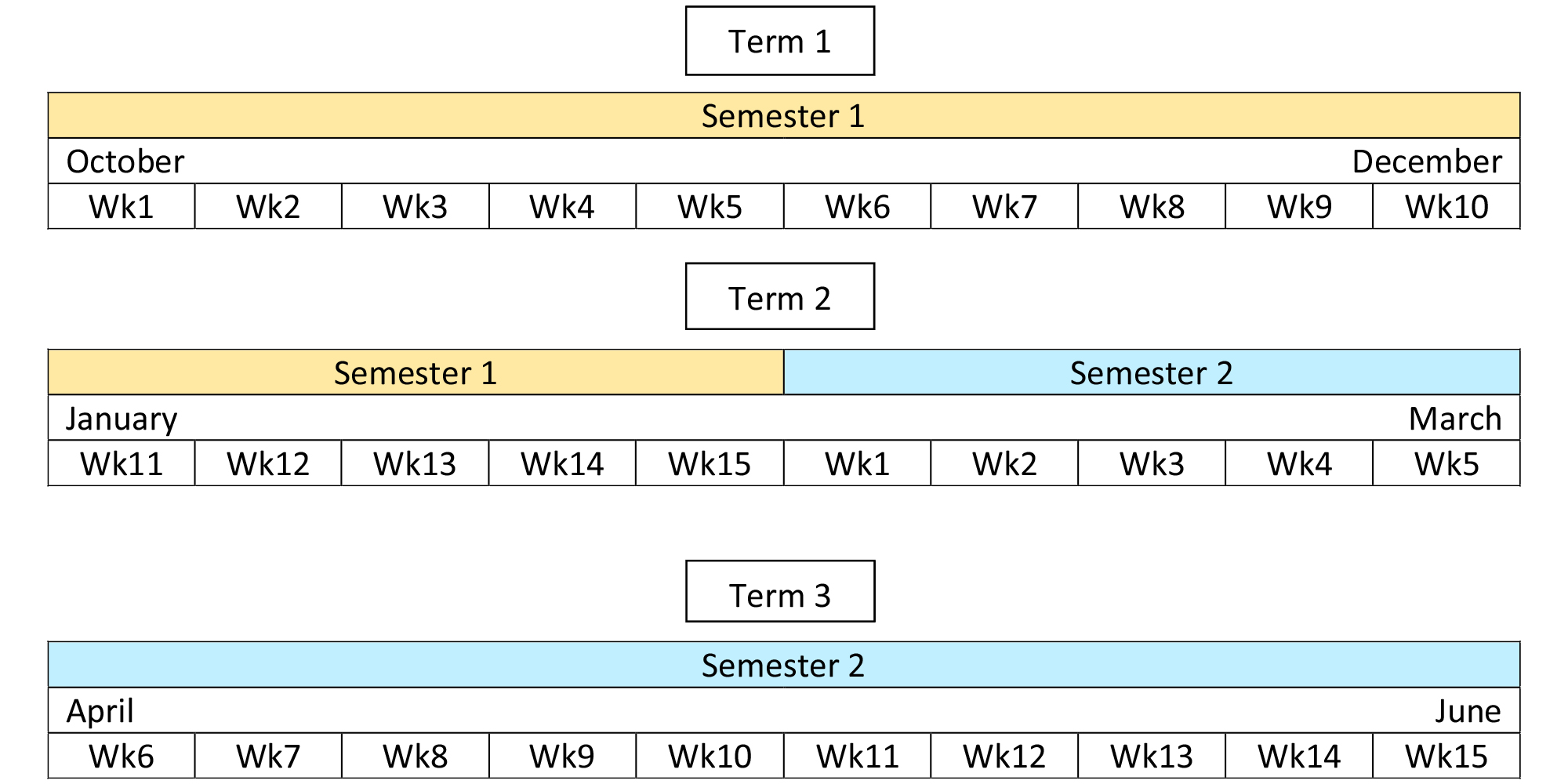 The Freshers' induction week takes place the week prior to week 1 and is sometimes referred to as 'Week 0'. It is purely for first year students and is organised by the Students' Union and the university to help new students settle in, find their way around campus, become familiar with key members of the teaching team and Support Services and make friends. There are lots of activities during the day and in the evening and it is often a very full week. More information about your Induction week and timetables will be available prior to your arrival.
How will I be taught?
Studying at university is very different from school and college, and there is a much greater emphasis on independent study, however we recognise that this is a feature of university life that students take some time to adjust to. We therefore use approaches to academic work that encourage and support the development of skills which will be not only essential for your time at university, but more crucially when you embark on your professional careers. Lectures do form a large part of the taught activity, and certainly in the first year, this may mean being in with other student groups who are studying the same modules as you. Group sizes at this stage may be as high as 160 students, but alongside the lectures are small group seminars and tutorials where you will have the opportunity to explore key concepts in more detail, discuss topical issues relating to the key themes, and undertake practical activities that help set the theories in context. To compliment the lectures and seminars, there are also practical sessions, laboratory classes, off-site visits, case studies, guest speakers and field trips that may make up your timetabled activities depending on the modules you are studying.
For all taught activities there is an expectation that you will prepare before you come to the session. This may be simply reading though the materials that are going to be discussed, or it could be familiarising yourself with a particular problem that you will be working with. It could be a fact finding exercise for you to bring to the discussion to compliment the activity, or it could be preparing something that you will share with the rest of the group. Whatever the activity, this preparatory work is crucial to your enjoyment and development, and increases the depth and breadth of the learning experience as a result.
For some programmes there is a requirement to carry out a work placement – the details of what kind of placement and for how long will be explained as part of your course, but this opportunity has proven invaluable to students for putting their studies in context and for applying their newly acquired knowledge and skills in the work place. These modules are referred to as work based learning and almost all of them require an element of self-reflection to identify areas of progress or further training needs. If work based learning forms part of your course then this will be highlighted in the course information and can be discussed during open days.
Independent study
Part of the reason for studying at degree level is so that you are equipped with the knowledge and skills for a lifetime's career. It is imperative therefore that you are able to monitor and evaluate your own progress, take responsibility for your own learning and work collaboratively to solve problems, and undergraduate programs allow you the opportunities to develop these skills. You are therefore expected to get yourself to your lectures, and be responsible for your preparation and time keeping. Lecturers will of course be on hand to offer support and guidance, but they expect you to be as involved in this process as they are. To provide you with every opportunity to engage with the subject we use our virtual learning environment where you can find all of the modules that you are studying that year as well as a course page for your programme. The module pages contain all of the information relating to that module – the teaching schedule, the learning materials, assessments, on line activities, additional resources, which staff members are involved and how to contact them, and links to additional external sources of information. The programme page has information relating to timetables, assessment schedules, course meetings and other relevant resources. There are also links to your timetable, and the various support services in the university.
Often students will see their timetable and misinterpret the non-timetabled slots as 'free time'. Whilst there may be room in your schedule for outside pursuits, the time in between lectures is there for you to work on assignments, group activities, preparation for lectures and seminars and deepening your understanding of the subject. For every 1 timetabled hour, it is anticipated that on average 2 further hours are spent studying, so make sure you plan your priorities and use this time wisely. Of course there are many other things competing for your time and energy, and we want you to become involved with the social side of university life but make sure this is not at the expense of your place at university. Part of your development is the skill of time management and priority setting, and we can help with this.
Feedback
For every piece of coursework you carry out you will receive constructive feedback not only on the knowledge and understanding of your subject but also how well you have demonstrated the skills and abilities that we are looking for in our graduates. These assessed activities contribute towards your final module mark, which in turn contributes towards your end of year mark – this is referred to as summative assessment and feedback. Your feedback is provided online so that you have a permanent record which is important because when you carry out your next piece of coursework, even if it's in a different module, we will expect you to use your feedback to improve. It's important therefore that you understand the feedback you have been given and ask questions to help develop your understanding. In addition to the online feedback it is highly likely that the lecturer will go through general aspects of the coursework with the whole group during face to face sessions or in a one to one, where appropriate.
To help prepare for these summative exercises there will be plenty of opportunities to practice the skills required for your assessments and gain feedback on your performance. These formative opportunities are extremely important and are usually embedded into lectures, seminars and the other activities that make up your course. Feedback on these activities is usually continual and in a whole variety of forms – it may come from your peer group, or question and answer sessions, it may be as a result of practicing a skill and testing your abilities, it could be through one to one tutorials or exercises set in class. The important thing is to recognise these as opportunities to learn more about the subject, how well you understand it and your ability to apply your developing skill set.
Support while you are here
When you first enrol, you will be assigned a personal tutor who will meet with you at least once a term, but you can request a meeting at any time. A meeting with a personal tutor offers the chance to talk through issues, and may be all it takes to find a resolution for any challenges you are facing, but if necessary they are also able to guide you towards more specialist services. Student Services encompass a whole host of personal, financial and health and well-being resources that can step in and support you if needs be, and we also have a team of academic support mechanisms to help with disabilities and identified learning needs. This may be help with time management, organisation, note taking or how to structure academic assignments all the way through to specialist support for dyslexia, dyspraxia etc. The important thing is to talk to your tutor about how we might help you and not to stew on worries or problems.